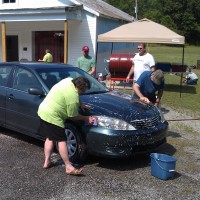 On Mission in Prospect, TN
By Pastor DeWayne Howard | May 25, 2012
You don't have to go to a foreign country to do missions. You can walk across the street or drive down the road.
The weekend of May 18-19, 2012 found a mission team of 8 people from Bridges of Hope Fellowship serving a church plant, Abundant Life Baptist Church, in Prospect, Tennessee. Pastor Steve Williams of Abundant Life was so excited to have us serving alongside of his people to impact their community for the cause of Christ.
During the weekend, the mission team conducted a Servant Evangelism Weekend Intensive that involved training of people to do random acts of kindness to show God's love in a practical way. Then, they went out in the community putting into action what they had learned during the training. Projects included a FREE Car Wash, FREE Hot Dog/Drink Giveaway, FREE Family Photos, FREE Haircuts, and door to door hang bags. It was a great success for the church and the mission team!
Thanks for everyone who made up the mission team for selflessly giving of your time and resources to bless another church for kingdom growth!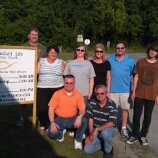 (Back Row L to R) Allen Holman, Dora Lopez, Natalie Howard, Janet Nunley,
Brent Nunley, and Dwight Howard
(Front Row L to R) Pastor DeWayne and David Clayton
Back