Next Steps

For many people, attending a new church can be very frustrating when they don't know how to plug in or what to do next.
At Bridges of Hope Fellowship, we have a very defined strategy to help you get plugged in and get connected to the church family. We call this strategy: Next Steps.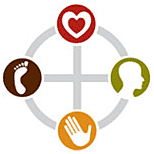 There are four basic steps in the Next Steps strategy.
Each step is offered every other month.
STEP 1: Connect - The first step is connecting with God and the church family. You'll learn who we are, what we believe, and where we are going as a church.
Required for membership at Bridges of Hope.
STEP 2: Grow - The second step is learning the habits necessary to growing into a spiritually mature follower of Christ. You'll learn how to have
a quiet time, study your Bible, and much more!
STEP 3: Serve - The third step helps you to identify how God has wired and created you to serve God and others. You'll discover your
spiritual gifts, talents, skills abilities and passions.
STEP 4: Go - The fourth step will help you learn how to share your faith (story) with those in your circle of influence. You will find out how to reach
those that God has put into your path.

Each step is offered once every other month on a Sunday evening from 3-7 p.m. at Bridges of Hope. During this time, a pizza dinner is served.
Childcare for birth through 5th grade, if requested.
Be sure to register for the next step being offered!