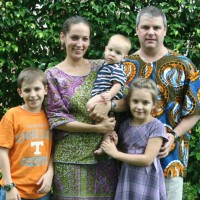 December News from Abidjan, Cote d'Ivoire, Africa
By Michael & Heather McAfee | December 9, 2011
I keep hearing little snippets from different people about Christmas plays and parties you are attending. In some ways, we are still adjusting to hearing this news in the middle of a HEAT WAVE! As you all smell snow in the air, the prevailing smell around here is smoke! December usually brings more dry weather here as the sun really starts to get hot. Burning brush off now as the rainy season ends is fairly common. So the next time you change your cinnamon scented plugin, think of us and our smell of burning grass. ;)
November was a busy month for us and like all of you, December will bring more the same. We won't be racing off to holiday parties, though. Most celebrating here is done on Christmas eve in a midnight service and then Christmas day as churches gather together to celebrate African style the birth of our Savior. We are hoping to be able to have what has become our annual Christmas party here in our yard. It is a time where we honor and serve those that work here at the mission. All year they hold us in high esteem and honor as they help us accomplish more mundane tasks, that have to be done, so that we can focus more on the task of sharing the gospel. We try to always be mindful of their help and service, but this is just a time we like to take to honor them. And of course being storytellers, we take this time to make sure they know the STORY of Christmas. We are always trying to look for ways to do that creatively that will speak to their hearts. Pray with us as we prepare for this exciting time to share with our friends. We'll face a new obstacle this year as we'll be the sole hosts. The responsibility of feeding what has swollen to around 75 guests seems a little daunting. Pray the Lord will bless us with wisdom, strength and all that we need to accomplish this.
Thanks for praying for our groups. Most of them are plugging along at this point. I have 4 groups close to the middle of the Evangelism set of stories. They've already heard about how Adam and Eve's disobedience separated us from God and brought suffering and shame into our lives. They've heard about how God began right away to help them cover their shame and how the Old Testament stories, God delivers his people and redeems us as his own. They are learning about the life of Jesus, how He proved He is the One sent from God, how he had pity on those that were suffering, and demonstrated power and authority in oneness with God the Father. Pray for these little groups as we encourage to share what they are learning. Some of them are doing it. Pray that we find those that will be faithful in sharing what has been entrusted to them. Pray also as we draw the evangelism set to a close that we will ask the right questions to draw the net as fishers of men. We have people from all backgrounds listening and we need to make sure they understand that Jesus is the way, the truth and the life and that no one comes to the Father BUT BY HIM. Some of these groups will get that chance before you hear from us again.
Mike's group with the Muslim background believer at the head, celebrated two big events in November. The leader was married and his bride to be was baptized. We were thrilled to celebrate these things along with them.
We have also been making some inroads with pastors and their wives this last month. We had many opportunities to visit in their churches and homes. We also had the pleasure of a drop in visit and many phone calls. That all signifies the begins of acceptance, so we are happy for that. Pray that God will give us wisdom into how we can help them and how we can work together to reach this city. Pray that he also gives us discerning hearts so that we don't walk into problems unaware. Problems of education and lack of good leadership development have led to some bad theology. It is a very tricky thing to know how and where to help.
There is no way I can close my December letter without mentioning Lottie Moon. Over the last year, our company's personnel has dropped below 5000, budgets have been cut as low as possible. Without your support, we can't be here. I heard a report last year that each SB family gives on average $15 to Lottie Moon. How much money will we drop on gifts this month? How much money will be spent on eating out? How much money will be spent on gas to run to all of the extra events and visiting? How much money will be given so that the dieing may hear and find life? Sometimes I need to be kicked out of my complacency. Those that do not hear and respond to the gospel of Christ die to eternal punishment and separation from God.
Here is a word from one that is hearing; a question that reminds me to persevere. Alima looks at me as we sit in the street. Pitiful one room shacks surround us. People go to bed hungry in her neighborhood. Families borrow and beg to get enough money to register their kids for school. Husbands look for months to find work. Wives sell their goods in the street trying to scrape together enough for food and rent. Disease is rampant. The needs are overwhelming, however, it is Alima's own question that makes me most concerned for her neighborhood. "When we die and we stand before God, what happens to those that don't measure up?" Will you give so that we can stay? Will you go so that they can hear? Will you pray so that God's glory will be revealed to the nations?
For pictures and silly stories, check out our blog at www.sentoutones.blogspot.com
If you would like to talk to us, you can always get us on Skype or by calling 615-257-1252.
May God bless you and keep you through this Christmas season and through the new year.
Serving Him,
Heather McAfee
Back