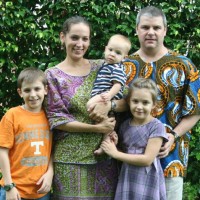 February News from Abidjan, Cote d'Ivoire, Africa
By Michael & Heather McAfee | February 4, 2012
Well, we made it. We are in Accra, Ghana alive and well. We really appreciate your prayers for us. It was exactly what we needed. It turned out to be one of those times where He didn't take us out of the difficulties, but He walked through them with us. It turned out to be a grueling 13.5 hour drive over horrid roads. Most of that was done at a crawl of around 30 mph with slowing for huge potholes every few hundred feet. Through every tiny town they have a succession of something a bit taller than rumble strips that throw you around. Through all of that we stopped only to use the side of the road for a rest stop. Our 2 year old had no accidents and all of the kids were great and didn't complain. At the 12 hour mark when had to stop for another side of the road potty stop for Ben, he finished his business and turned around with his arms up for me to pick him up and stick him back in his car seat! It was nothing short of miraculous. Because of the condition of the roads, we plan to break the trip up on the way home.
This month seems to have been filled with meetings, but we still got in some good times with our groups. Relationship is a very important thing out here. Greetings are required everywhere and shooting the breeze or "hearing the news" from your friends is a part of every encounter even if you have recently seen them. To highlight this point, when I was traveling, I came through an airport where I had to spend several hours. I was in need of a restroom and had located one, but it was locked. I located the nearest airport employee who was deep in conversation with someone. I waited for a pause, then said, "Excuse me, Good morning! These restrooms are locked are there any other ones." The airport employee gave me her full attention and began a good chewing out. "Young lady, around here you have to greet someone when you meet them. You can't just walk up to them and start talking." I stuffed down my polite southern roots and turned on my west African attitude. "Now listen here! I not only greeted you, but I greeted you in your language. I am sorry if you didn't hear me..." At this point the whole room starts to roar with laughter including the lady in charge of dressing me down. "Hahahaha! The white lady speaks Moore!" "She told you!" And so, I was back in good graces, and learned where to find another bathroom. It is definitely funny to see the mix of polite consideration for greetings and serious attitude you have to display here to make it! ;) I have to reserve a good portion of time just to spend time with my friends to chat even though my main purpose is to tell a story. I have a couple of ladies that will ask me if I take too long in getting around to a story, "Do you not have anything prepared for us today?" It makes me giggle, but I suppose that is my clue that they see my obligation to chat has been fulfilled and I can carry on with the work. :) I would like to ask you to pray more seriously this month for Aisha, Marie and Agira. I expect to be wrapping up the initial stories with them and extending an official invitation to follow Christ. Marie is the young Catholic widow and the other two are Muslim. I'm not really sure where Marie stands. I know she has some areas of belief that aren't in line with what scripture teaches, but she claims to be a follower of Christ, so pray that I'll make clear to her what the gospel requires and that she'll make an honest accounting of where she is. The other two are far from followers but have expressed a desire to please God in their own way already. Pray that they'll count the cost and make the hard choice.
Continue to pray for Mike's groups with Seidou and Bamba as well as our new growing relationships with the groups of pastors and wives. Pray that God will lead us and guide us in every step of our decision making for ministry and that we'll be sensitive to His leading. Pray also that God will send workers for the harvest. Meetings are going well and we'll appreciate your prayers again for us as we travel home next Tuesday and Wednesday.
Thank you so much for your prayers.
Heather McAfee
www.sentoutones.blogspot.com

Back