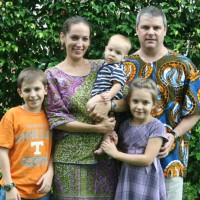 July News from Abidjan, Cote d'Ivoire, Africa
By Michael & Heather McAfee | July 6, 2012
Thank you, thank you, thank you for praying for us in the past month. It has been an exceptionally hard month for us. Mike had a close friend that lost his twin sister rather unexpectedly early in the month. We struggle with our home culture's sense of justice often in cases of illness as we watch our friends and their loved ones turned away from care because they lack the money either to pay or to pay a bribe to get in. Our African friends struggle with it too, of course, but it is so hard for us to see knowing how different it was where we grew up. I also lost a close friend that has been a part of my ministry from our early months here in Abidjan. Those that have followed our stories for a while may remember the name Christine. She was a widowed Catholic woman. She's heard as many stories as I know to tell, but never really grasped the idea of trusting in grace alone for salvation. I really don't know where Christine is spending eternity. God alone knows where the heart of man stands. She passed on after a rather long illness. For the last 4 days of her life, I visited her at her bedside. She was unable to communicate (or eat or drink for that matter) but seemed aware of who was there and what was said. The first day of the last of the crisis, she trembled with what I imagined was her desire to communicate with me. I prayed over her and spoke words of peace to her as tears began to roll from her eyes. As I finished praying, she had calmed completely. One of our last conversations was about whether or not she would get better. We've seen God work miracles this year on her behalf and I knew he could do that again if He chose, but this time, I felt I needed to remind her that whether or not she made it, she had to be ready for whenever God called her home. She told me she was. I hope she did square away things whether in those last weeks or in the last days that she could not talk. Cultures colliding in the midst of grief is ever so hard, but the Comforter helped me in all ways to do what I needed to do. As I sat in her house and listened to her fellow church members chant beside her dead body prayers to the mother of our Savior, I remembered well why I am here. I also had friends that have lost babies in the week following Christine's passing. June just seemed to be a month of profound loss and learning. I pray that He uses that in me to make me even more useful to Him.
As things always go in the midst of loss, we found out in that a new family might come our way to spend their first 1 1/2 to 2 years here with us to learn language, culture and get some practice with urban ministry. They did get to come so we had to rush to make housing arrangements and learn the new language program so that we could get them off to a good start. We are so happy to have David and Jaime and their twin 16 month old girls here with us now. I still feel like I am running behind and forgetting a few things, but they have arrived and I am sure we'll work out all of the details together. This is an answer to your prayer. We think we know what we should ask for, and we've been asking you to pray for all sorts of workers for the harvest. This was an unforeseen answer to that prayer. We had no idea that God might send someone here for these reasons in answer to our prayers. We are glad for this answer and rest assured that God knows better what we need than we do. We continue to look for short termers, like journeymen, long termers, like us, and volunteers as well as HandsOn (college program) and churches willing to partner with us to reach the city. May God continue to bring new life and new laborers to Abidjan.
Much of our other work is sure and steady. I don't know that there is much exciting news to share, but so goes ministry. I'm not sure we could have handled more excitement than we got in the last month anyway! My work with the pastor's wife in the north of the city has really stepped into the hard part. We've lost a group, due to disinterest and have another group hanging in the balance. Pray that we persevere where God is at work, and shake the dust from our feet where Jesus is rejected. Continue to pray for the Muslim family that Mike has been visiting for some time now. They are slowly working through the stories to try to make sure they understand the gospel message. They've moved on into the Jesus stories and so pray that the Spirit will speak truth to their hearts. Pray that they truly seek truth as they have told us and that Satan's lies are brought to light.
We are due for much travel throughout July. We ask that you would pray that we all, the new family, our jouneyman and our family, travel well and get spiritual renewal as well as have good meetings about things changes and new directions for our area of West Africa. Pray also that we help our new family to get adjusted to life in West Africa and give them a good start on learning French.
Volunteers are a bright spot in our schedules and we ask that you pray for a team coming in August from Louisiana. Pray that they will have safe travels and a very productive time here. Pray that we will plan well for their time here and find just the right nationals to partner with us for that week.
Again thanks so much for your prayers. Let us know if you know of someone that might be interested in our ministry opportunities or if you church or small group would be interested in learning more about how they can be involved in our ministry and in sharing the gospel here in Abidjan! As always, you can contact us through Skype, email or our Skype phone number (615-257-1252). If you want to hear more details on what life is really like in Abidjan, RCI, you can read our blog at sentoutones.blogspot.com
Serving Him,
Heather McAfee
Back