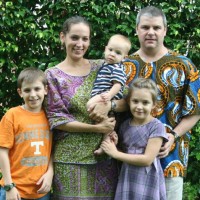 June News from Abidjan, Cote d'Ivoire, Africa
By Michael & Heather McAfee | June 3, 2012
May has been another amazing month filled with answered prayers. You'll never know how much it means to us that you stand behind us in praying, giving and going. I think we'd quickly wear out, give up and go home without your support. We have definitely seen ways that God has worked through your prayers for Abidjan.
I am having trouble knowing where to even start to tell you how we've seen God at work. Some of you have prayed for many months for the muslim lady named Agira in Vridi. It is more complicated here knowing where the exact moment of initial belief starts, but just over a week ago, as I was trying to gauge where Agira was, we were talking about Jesus and what others say about him. We had discussed how some people think he was just a good man or even a prophet. We recapped what the Bible says in the stories we've had. I made a statement that for me, I only see believing completely in Jesus or not believing at all. She commented, "That's the truth!" I wanted to push the envelope, so I asked, "So what do you believe?" She gave me the pat answer around her, "Well, I believe in God". GGGRRR! The first thought that came to mind was, "Yeah, so does Satan!" but decided to say out loud, "Yes, I know, but what do you believe about Jesus?" Now there was long pause, "Well, I can say that He is my Savior and I could never say otherwise." WOOHOOO! This whole encounter was after we'd taken a long look at what it means to be a follower of Christ and how exactly someone would go about following Christ. I tried to maintain my composure a bit, we were in the market, and I reminded her of the verses we'd talked about the week before of how those that believe in Christ, have become the children of God. I loved the smile that crossed her face at that statement. Praise to our Redeemer forevermore! Agira still has a long road ahead of her. She understands nothing of the Bible beyond what I've told her. She has a temper that is one of the hottest I've ever seen. I can't wait to see the work of the Spirit in her life!
The family group of Seidou has also been touched by the hand of God this month. He's provided specific answers of prayer for healing to different family members and neighbors. Mike has a steady steam of people there coming for prayer. Pray that Mike's prayers in Jesus name and his stories of what Jesus did for us ring true in their hearts. Pray that they see these answered prayers as confirmation of the validity of Jesus redemptive work. Pray that they see not only their physical need for Jesus, but the spiritual state of their soul. We want them to be broken before Him so that He can make them whole.
Neat things are also happening as a result of the pastors' wives conference I attended. Some pulpits have been opened to Mike as local churches have become interested in our work and how we can work together. Viviane the wife of a pastor in North Abidjan, had shared with me her desire to share with Muslim friends, but feeling unequipped to do so. For the last month, we've been going out once a week to speak with 4 of her friends and share with them. Pray that I can help Viviane build confidence in sharing with Muslims. Pray that these women hear, understand and respond to the gospel. Viviane is very strong in her faith and in sharing her faith. Pray that I can learn from her and the things she does well and that we'll form a strong bond so that we can be colaborers for Christ.
Bamba, the Muslim man that came to faith about 2 years ago and has been leading a storying group came over for a visit on Wednesday. We've been really talking and praying about how his storying group can move forward from a long term Bible study to church. As we talked with Bamba about some new ideas, he began to share something that has been on his heart. He told us that he has been feeling a call to full time ministry. We are very excited to hear God at work in his life. Pray for Bamba to have clear direction on how to proceed. Pray also for his group that he and Mike can lead them to being another point of light in this city. Bamba brings obvious skill and expertise that will be beneficial to the work in this city, but he is also a young believer and has much to learn. Pray that we too can know best how to be of help to Bamba in helping him achieve that to which God is calling him. Pray that his wife catches the vision as well and they can move forward in unity.
We had a wonderful volunteer team with us from Parkwood BC in Gastonia, NC. Three young men came prepared to pour out themselves to further the gospel here. They went out with some nationals from a local Baptist church to do evangelism. They talked to hundreds of people and shared the gospel. Many chose to follow Christ and many more expressed interest in coming to church. As they went out with Bamba and a few members of that storying group to spread the word in their neighborhood, they experienced the blessings of God in that area as well. One of the young men managed to gather a group of nearly 50 people at once to hear the Truth that changes lives. All of the men were faithful to share and not only make a difference to their audience, but to their translators as well. As a result of this experience many of their translators are now able to share their own faith in a simple, clear way. In addition, those that attend the local church have asked Mike for help in learning to conduct storying groups so that those they spoke with that were interested but unable or unwilling to come to church, can continue to hear and have an opportunity to respond to the gospel. Pray for these young men and Mike as he trains them that they will understand the training and become multipliers of the work.
Last, and certainly not least, we have official word of another family coming to join us for a time. As many West African countries go, we have a neighboring country experiencing some unrest right now. A family in Vancouver right now, has gotten a change of plans to come here to learn French, culture, and some tricks of the trade right here with us in Abidjan. David and Jaime R and their twin girls (15 months) will be joining us for 18-24 months. So in answer to your prayers, our Urban group has doubled from 5 to 10 in a matter of months. We are thankful for these that are here for this period of time. We ask you to continue to pray that our long term request is answered and that our short term requests are also filled. The journeyman (2 year) requests will be presented this month to a group of young men and women. Pray that our requests find favor with this group. Because of such an amazing volunteer group, we are praying for more to come. It was wonderful to see the impact they made in such a short time on lostness and on believers to equip them to battle lostness. They were an encouragement to a local church where everyday is a battle because life here is hard. We hope to find a few churches that are willing to come a few times a year, to be active members on our Abidjan urban team in reaching this city for Christ. We also are hoping to find those churches willing to say, we can't come a few times a year, but we'll be there every year to do our part. Once again we ask you to pray with us, to the Lord of the harvest, for workers!
To Him who is able to do more than we can ever ask or imagine be the glory!
Back